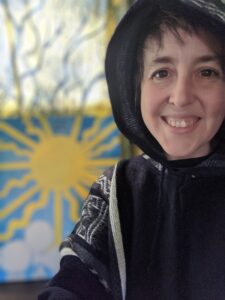 Heather Defresne
Intuitive Tarot Readings, Psychic Drawing & Painting, Visual Interpretation
As a visual interpreter, the gift to notice the small details which others overlook is the key to Heather's practice. Heather first noticed her psychic ability after her second child was born in Alaska in 2008, when she began having precognitive dreams. Five years later, after moving to Michigan, she began to paint, which would lead to more visions and unintentional predictions.
Once Heather became fully aware of her gift of premonition, she began practicing the Tarot, which released a new wave of powerful energy. Through the Tarot, Heather has honed her intuition and ability to provide valuable information to those who feel "lost" in their lives. Using the techniques of automatic drawing and painting, Heather uses her visually creative gifts to manifest her own reality and the reality of others.
If you are feeling stuck on your path and don't know which way to turn next, let your intuition be your guide. If you feel like you don't know how to trust your intuition, let Heather be your guide.